Today I want to share with you a press release about how nurseries and schools only offer free cows milk to children and not a vegan alternative.  This is something we have experienced as my son has just started school and all the children get free cows milk.  Obviously as we are vegan I have not signed up to the scheme!
At nursery they also got free cows milk and I sent in a bottle of plant based milk for him to enjoy so he didn't feel like he was missing out on something the other children were having.  I can see why many parents think this is unfair though.  Free milk options should be given to all children and they shouldn't be discriminated against because of allergies or their dietary requirements.
There is also so much research to say dairy is actually bad for us, let alone the cruelty it imposes upon animals and environmental damage all animal agriculture is causing.
Canada has even removed dairy from their national dietary guidelines!
I also send in packed lunches for my children to school, even though they could have free school meals for the first three years, but these usually have two meat options and a vegetarian option each day with a sugary pudding!  So again, I pack a vegan lunchbox with puddings that contain no added sugar for them to enjoy.  Schools should offer plant based meals for children as standard at lunchtime and no added sugar desserts!
It would be much better if schools provided plant based milk to all the children instead of cows milk, but I am sure the free cows milk initiative is funded by the dairy industry.  I've read stories about it before suggesting that they don't give cows milk free for the nutrition of the children, but rather to create a nostalgic memory of cows milk in children from a young age to make them a customer for life!  I think it's in one of the books I read, perhaps The Food Revolution by John Robbins where he discovers documents from a dairy industry meeting pretty much stating that's what their aim is.  It's all just about making money!
Anyway, here is the press release from The Vegan Society to update you on what they are campaigning for:
Nurseries that do not offer a vegan alternative to cow's milk as part of their free milk schemes are "indirectly discriminating against" children, a charity has said.
The Vegan Society has published a legal opinion today challenging the Department of Health to include fortified plant milk in its Nursery Milk Scheme this UN World School Milk Day (25 September).
The charity's legal expert wrote in a formal letter to the government that nutritional public health initiatives for children must include fortified plant milk to cater for the growing number of vegan children.
Parents have also slammed the Nursery Milk Scheme, which was established in the 1940s and offers free cow's milk to children under 5 in nurseries, for having to pay for their child's vegan milk.
Jeanette Rowley, The Vegan Society's legal advisor, said: "Law regulating the provision of milk for young children is in urgent need of reform to recognise current scientific evidence on nutrition and a growing consumer trend away from dairy products.
"Public authorities are under a general duty under the Equality Act 2010 to avoid discrimination; by limiting the Nursery Milk Scheme only to cow's milk, the Department of Health are failing in that duty.
"We are urging the government to include fortified plant milk in its milk schemes nationwide, to ensure vegan children are catered for with a nutritionally adequate and delicious milk alternative."
The Vegan Society wants fortified plant milk to be recognised on par with cow's milk, wherever animal milk is currently supported or promoted in schools, as it is an important source of calcium and other nutrients.
Dozens of parents have contacted the charity to complain about the lack of plant milk provision in schools, affecting vegan children as well as those who are allergic to dairy or object to it on religious, ethical and environmental grounds.
Parents are forced to organise and pay for their own plant milk delivery, which they say is "ridiculous when all the other kids got free cow's milk every day".
The Play Fair with Plant Milk campaign challenges the decade-long promotion of cow's milk and calls for schools to be more inclusive of children's dietary requirements and ethical convictions.
Mark Banahan, Campaigns Manager at The Vegan Society, said: "Vegan children are unfairly treated as they do not benefit from the current school health initiatives, which are designed to increase calcium intake for growing children.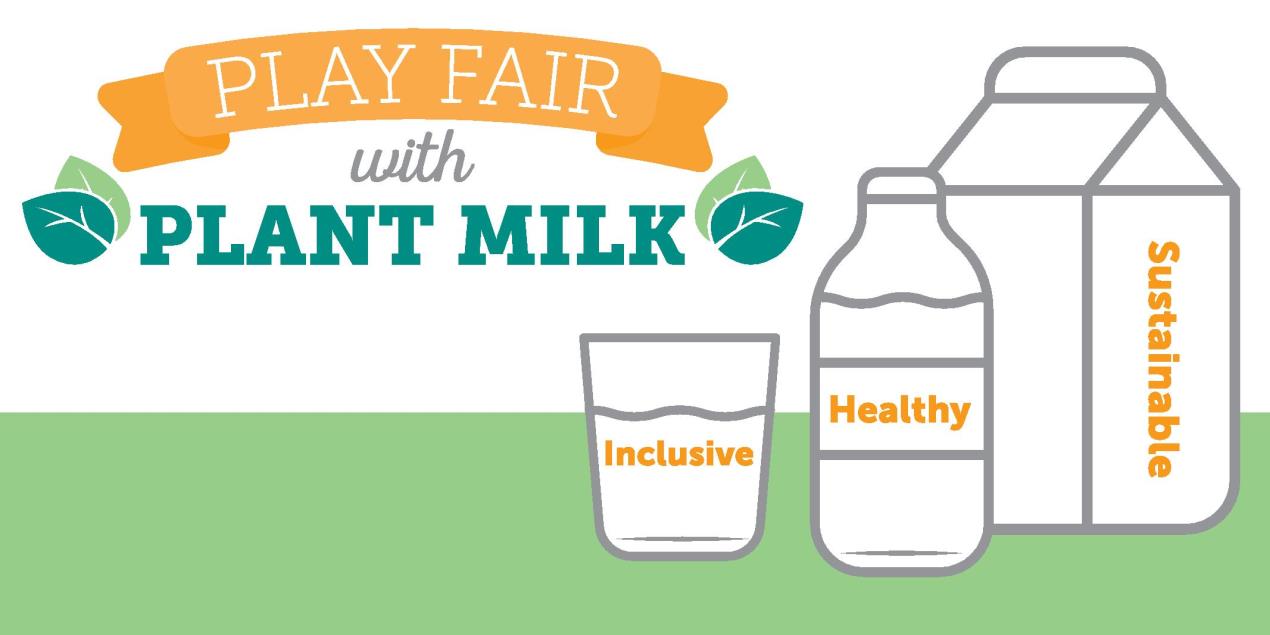 "They often miss out or have to rely on parents to provide their own plant milk, something that is not always possible for low-income families and causes a great deal of inconvenience to families who should be entitled to free milk alternatives.
"It's time the government Play Fair with Plant Milk and support it in nutritional public health initiatives for children."
Research shows that 1 in 3 people regularly buy plant milks and 17% of consumers report dairy avoidance in their household.
The government's Eatwell Guide officially recognises fortified plant milk as a suitable and nutritious alternative to animal milk, specifically mentioning soya milk, which has a similar nutritional profile to cow's milk in terms of calcium and protein.
The environmental benefits of plant milks are widely known, with even the most environmentally damaging type (almond) being better for the planet than dairy milk: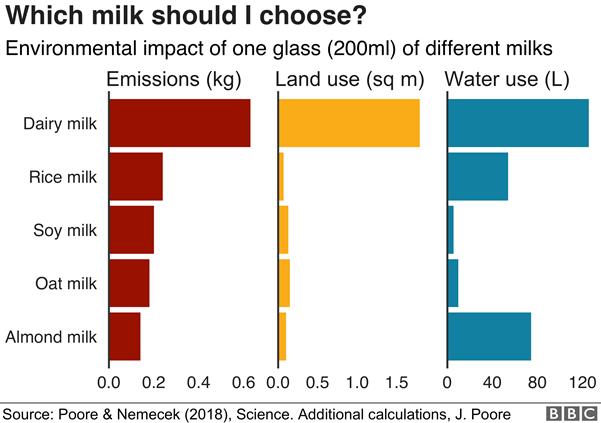 The production of dairy is wasteful due to the amount of feed and water cows consume, the land they take up, as well as the waste the produce, meaning for every 100 calories we feed to them we only receive 40 calories back in the form of their milk.
The Vegan Society is encouraging people to write to their politicians here, to get in touch to share their experiences through its website and share the Play Fair with Plant Milk campaign by posting on social media.
The charity has given the Department of Health 14 days to respond, after which it will be considering legal options.
What to read next:
EU proposal to ban 'meaty' names up for debate in Parliament
Climate emergency: Shift to vegan diet vital to meet Paris targets, warns charity
Understanding your basic nutritional needs when vegan
How to make your own plant-based oat milk at home (it's really easy)
21 easy vegan sandwich filling ideas for lunchboxes (without soy or added sugar)
NHS urged to remove restriction on non-dairy milks